After two intensive months of researching and working, I am very proud to present Writings v2 - the ultimate solution for beginner freelance copywriters. 🥳
A lot has changed and in this opportunity, I'd like to briefly onboard you to the most relevant information that impacts the product and the users.
Rebranded 🔗
The first thing you notice is that Writings is slightly rebranded. With the new branding colors and logo, I wanted to give a fresher look and establish the app as a relevant product for the targetted group.
Editor vs. Reader 🔗
In the beginning, the process of writing was split into two parts: writing in the editor and reading in the read-only view. In v2 we say farewell to the read-only view. From now on, Writings is editor only. That shouldn't change much as all of the features and operations remain the same and intact.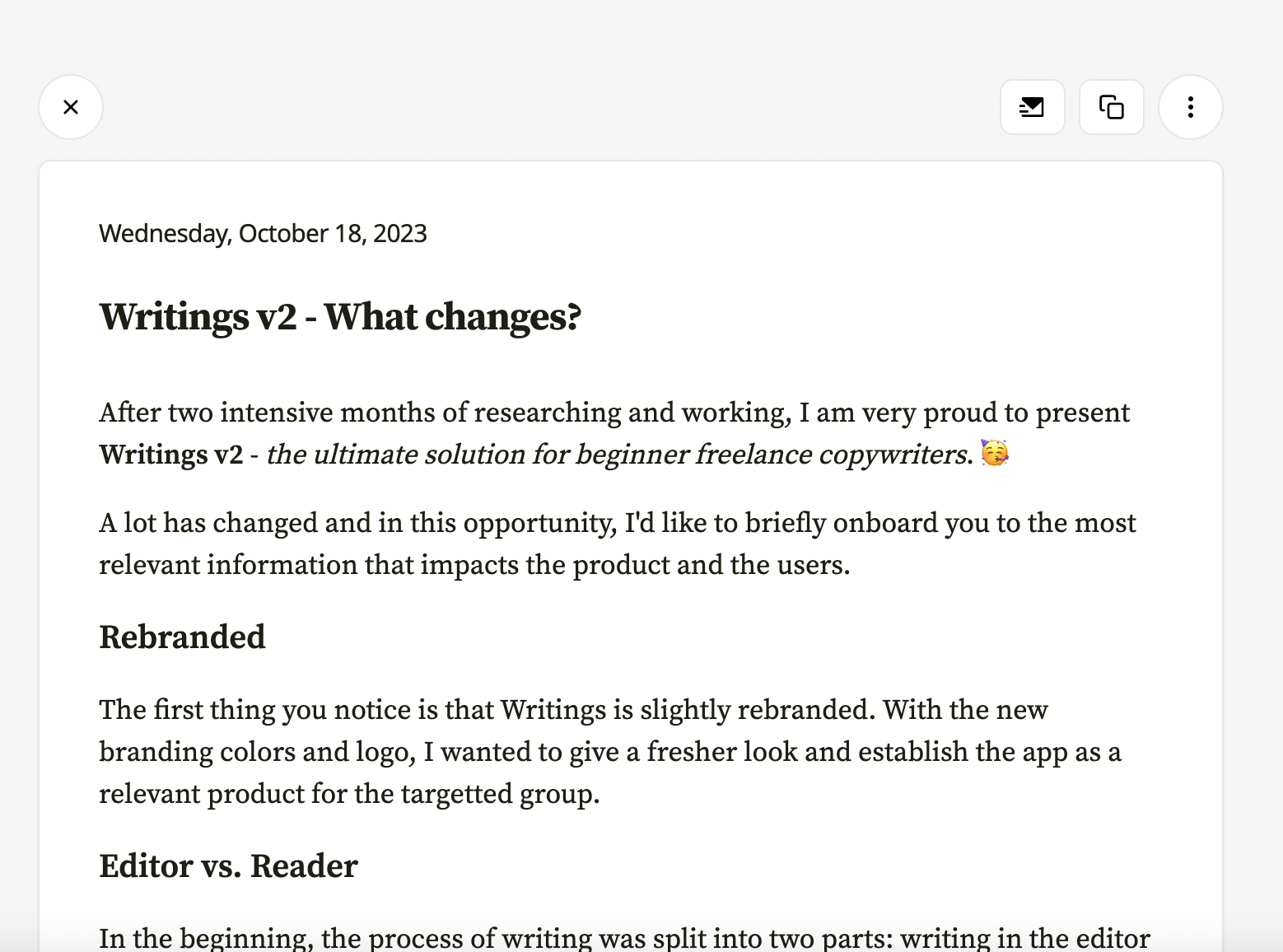 In that context the saving button is gone, and autosave takes the main role in saving your documents.
Search your content 🔗
A new feature is the search functionality on the home page. Now you can search your content, either by pressing the search icon 🔎 or pressing '/' while on the home page.

A bunch of new templates 🔗
There are tons of new templates that will support your writing process. The new set connects the existing ones and adds more copywriting specific ones.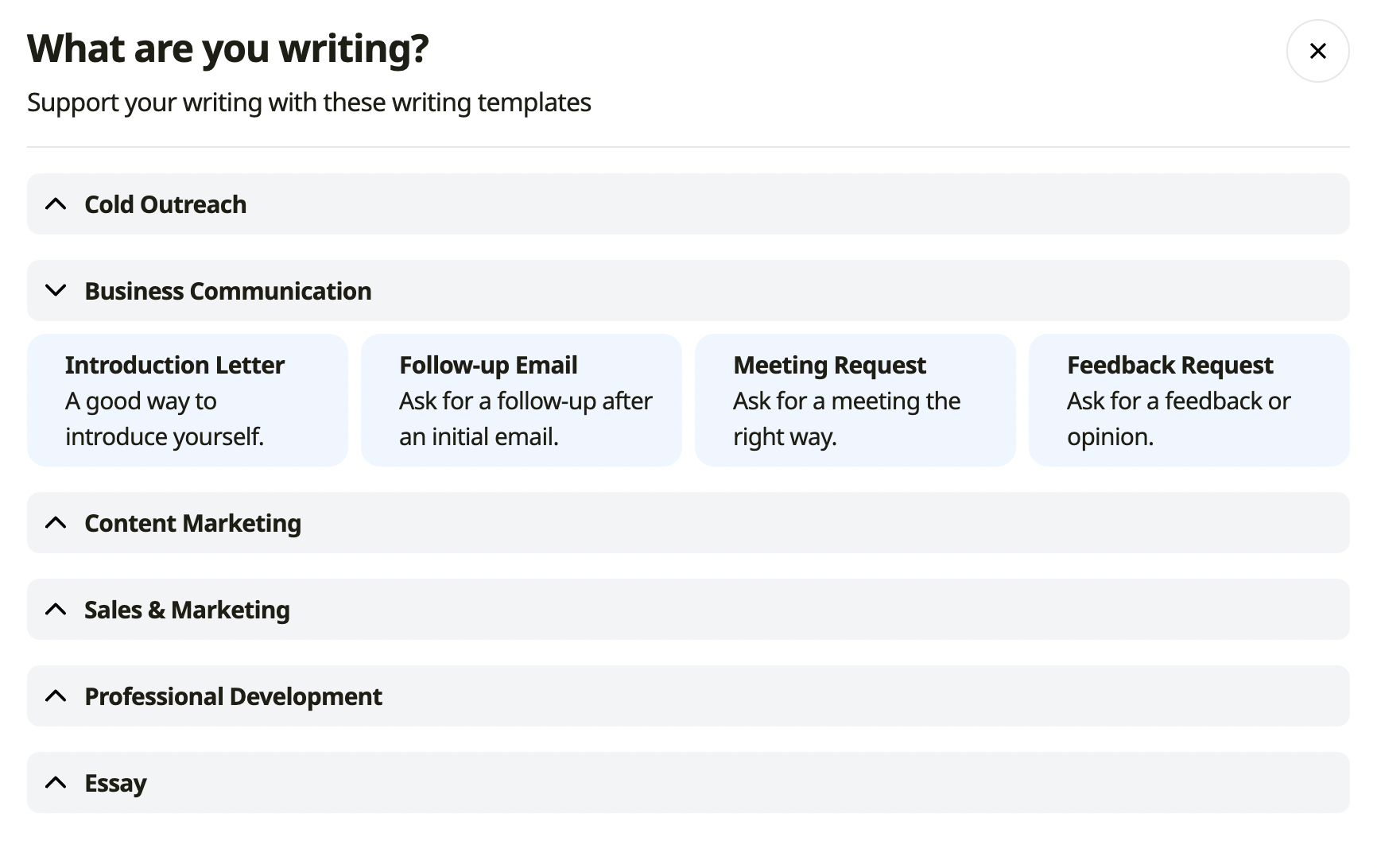 Keywords Generator 🔗
For the pro users, now there is a keywords generator tool that integrates existing data sources to provide precise information on keywords, that you can later use to generate performing headings for your content.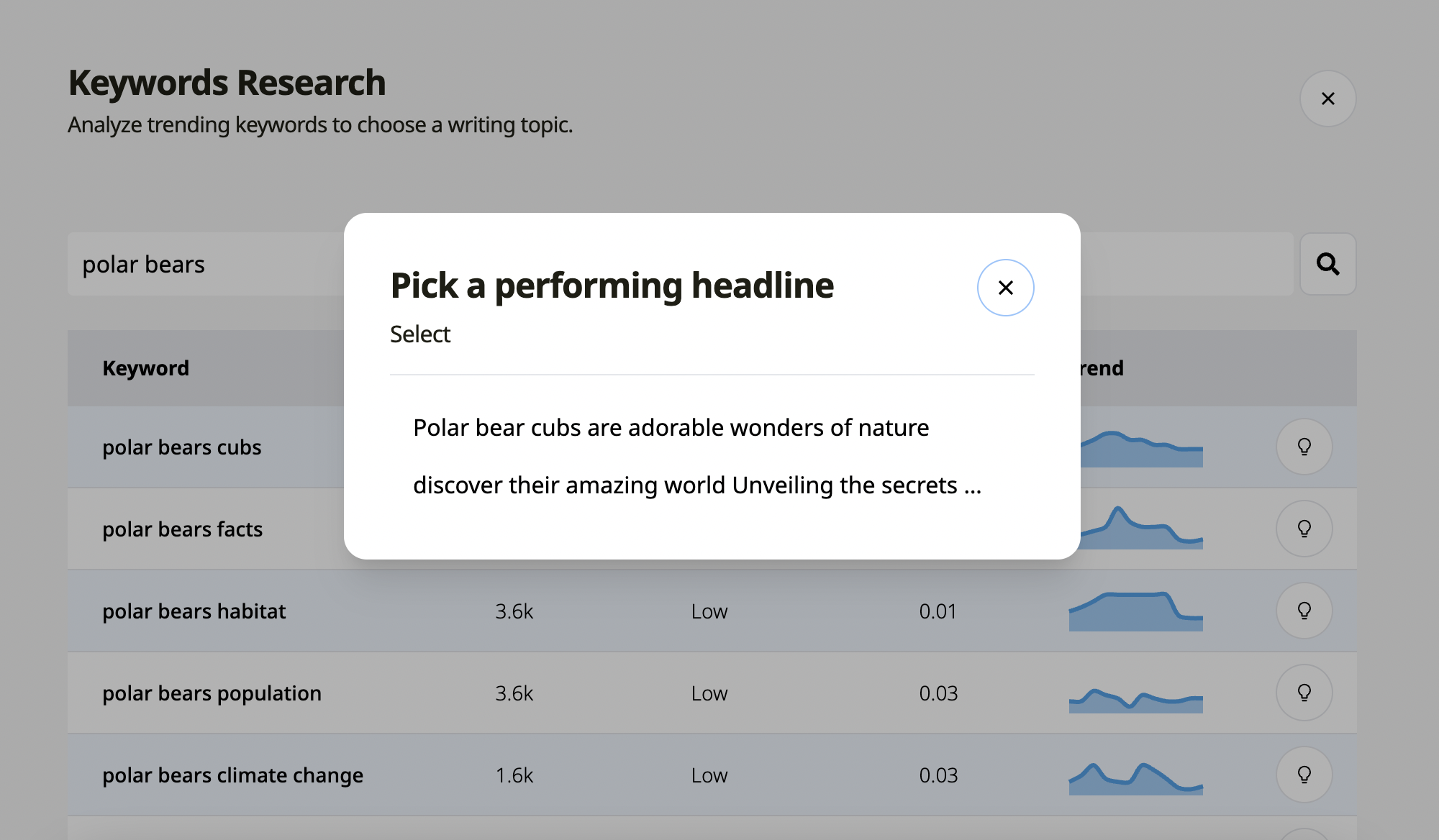 Find Relevant Images 🔗
Pro users will be able to find images for their content by using a slash command. Just press '/' while in the editor and select 'Find Relevant Image'. This will take your existing content by that point and find an image for it.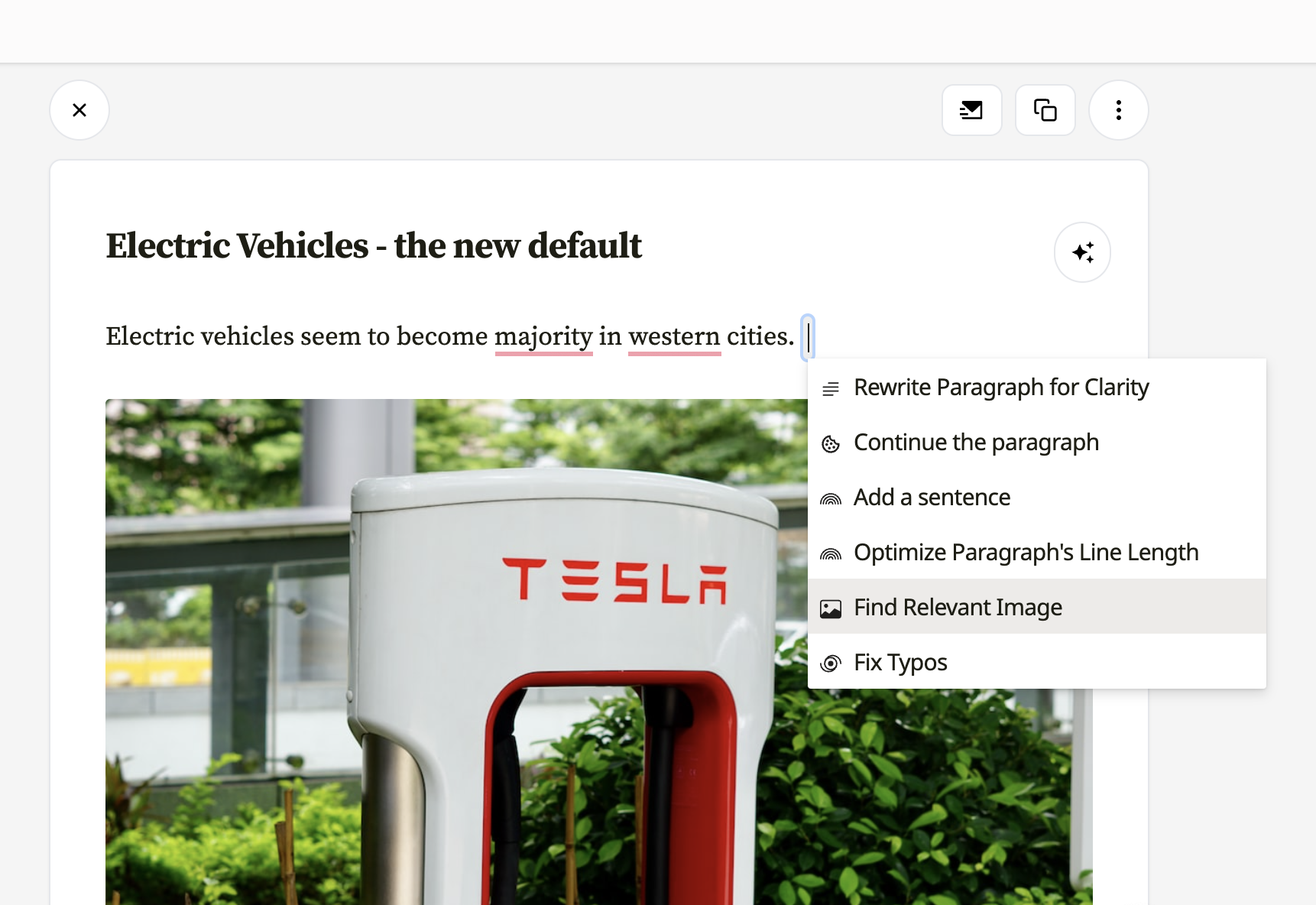 Does this mean support for custom image upload? Not yet. 🥹
Improved editor 🔗
You will easily notice, that the editor is revamped. Not just with cool features, like the image insert explained above, but also performance, crashes, and adding more markdown syntax support (i.e. the block-quote (start by typing >)).
And tons more.
Users migration 🔗
To ensure the proper functioning of Writings, I had to migrate some services from one place to another. That means that a lot of user accounts might be impacted by the migration process. Or, if you haven't logged in for more than 2 months, big chance you won't see your old data. Is it lost? No. 👇
⚠️ In case you want your data moved back and accessible via Writings send an email at [email protected] so that I can revisit your account. Please include the email your account is associated to.
New Pricing 🔗
Given that I am trying to give Writings new momentum, I redefined the pricing plans. The monthly plan now costs $19, while the annual one costs $180. That provides more than 20% discount, or $15 monthly.
Writings Learn 🔗
And finally, from the large amount of changes, I am slowly kicking off a mentoring program called Writings Learn. I integrated it as a third plan to Writings. There is no fixed price for this plan, it solely depends on where you are and what you want to achieve. It involves an annual subscription to Writings and 8 1:1 sessions.
The first consultation session is of course free of charge. Interested? Limited seats, reserve your spot here.
Finally 🔗
I bet there is more than just this. Your support and help would mean a lot to me. I'd really appreciate it if you spread the word about Writings in its new clothes.
If you know someone who is a copywriter or wants to dive into (copy)writing, do tell them. I will be super happy to talk to them and support them 🙏
Have a great day!