Write without distraction. Publish with ease.
Don't scatter your content on Google Docs and text files! Use Writings, the all-in-one app for distraction-free writing and easy publishing!
---
Write what you want
Write, structure, and edit your content with the simple editor! Use just the essentials needed to write effectively!
Organize as you want
List your content by date of creation or by the applied label. Organize and find what you write easily!
---
⭐️ ⭐️ ⭐️ ⭐️ ⭐️
What they said about Writings?
Loved by the users!
---
Writings Features
and why it is all you need to start writing
Structure your writing with the simple editor
Use the non-cluttered rich text editor to give your content proper structure. The editor is designed to provide a simple and powerful, non-distracting experience for you.Use Markdown syntax to speed up your process of writing or the common keyboard shortcuts.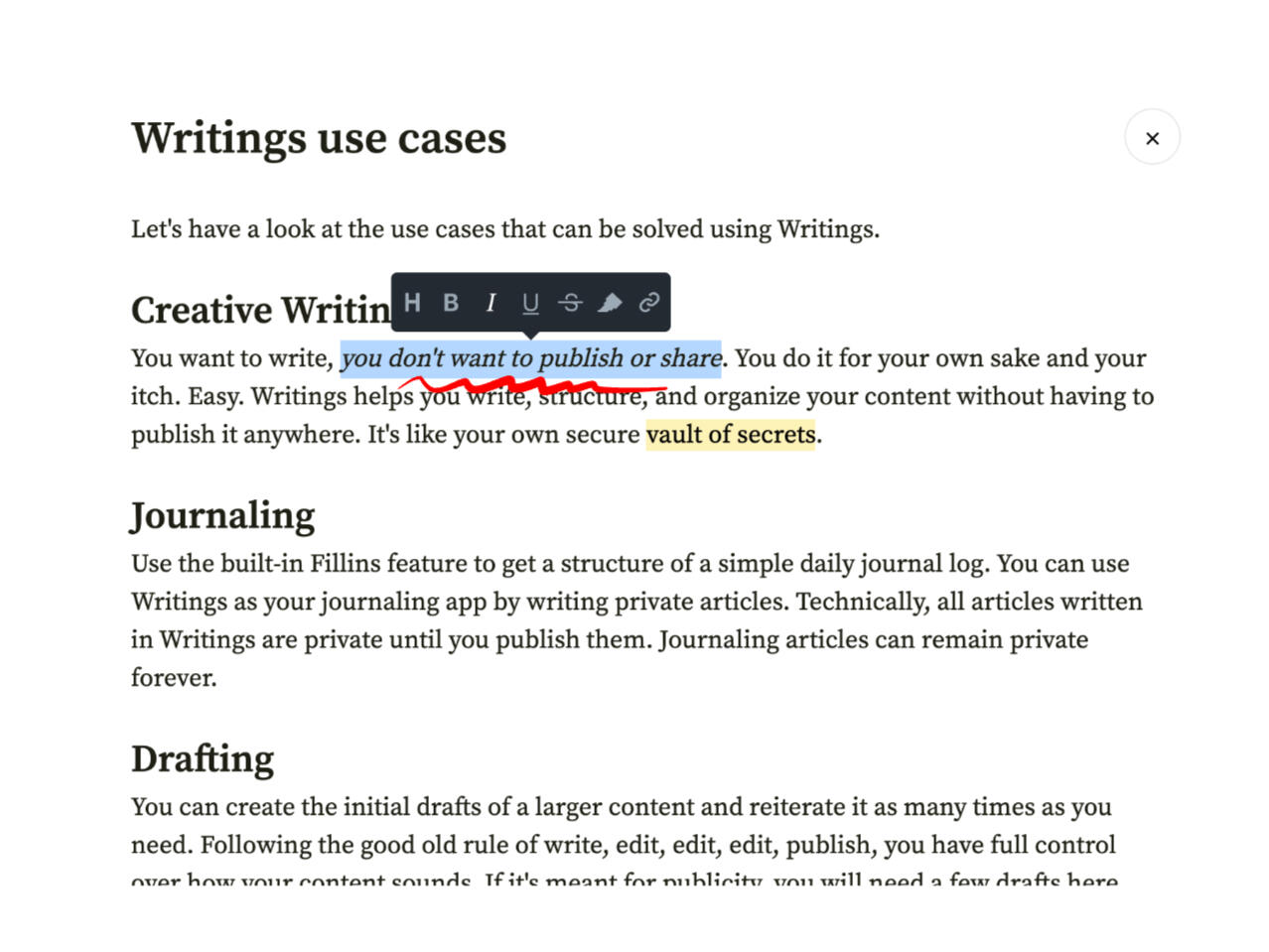 Organize your writing
Use predefined labels or create yours! Categorize your writing so that you can list it by categories on the home page. Don't ever get the feeling that your writing is lost.
Mass publishing
Link your Twitter, Medium and LinkedIn accounts to Writings and start publishing directly there with the easy publishing wizard.Write once, and publish everywhere!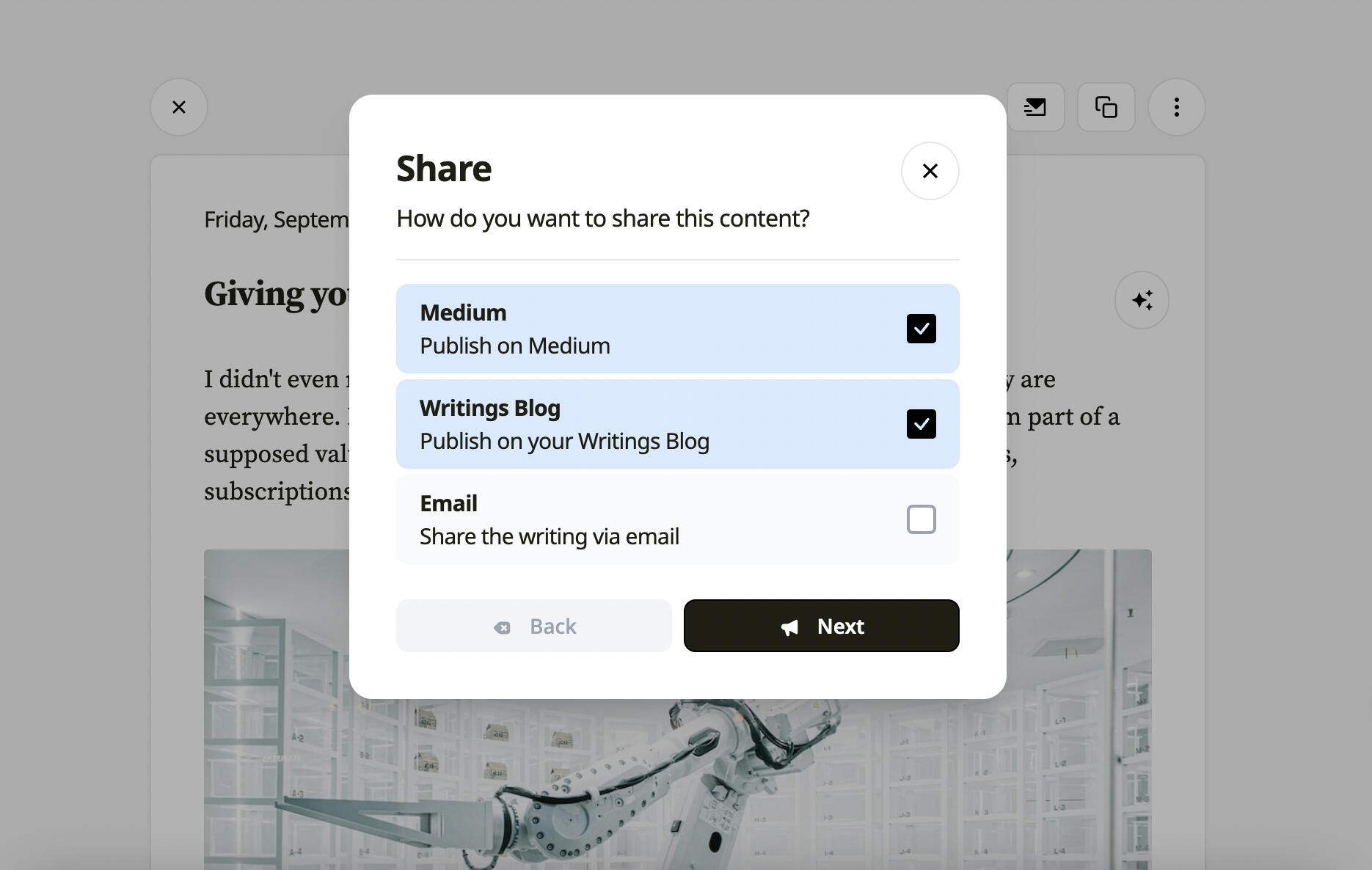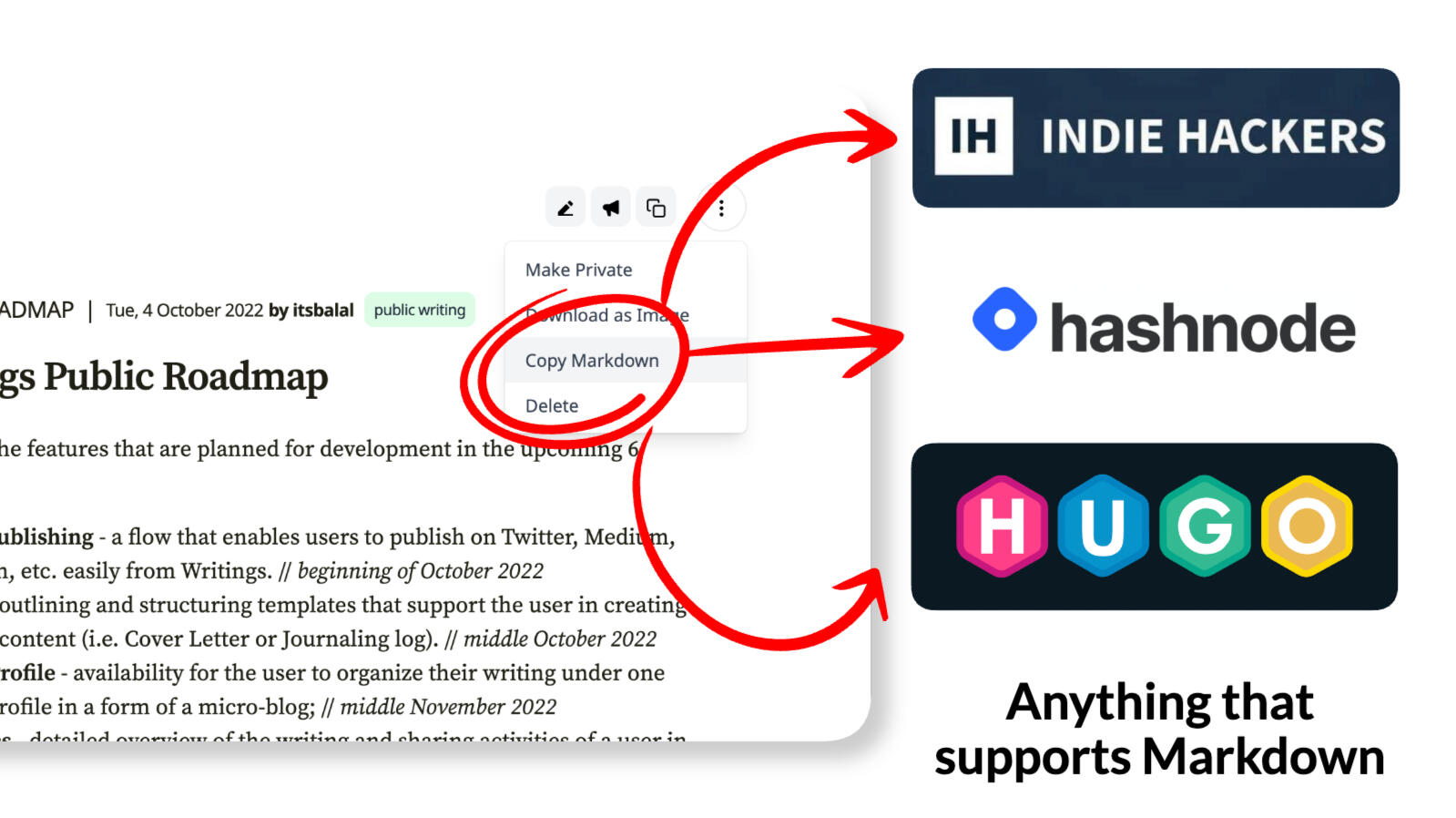 Export as Markdown
You have a blog on Hashnode or you are hosting a personal one with Hugo? You want to publish on IndieHackers easily?Write your content, copy the markdown and share it on the platforms that support Markdown.
Analytics
You cannot improve it if you don't measure it. That's easy with Writings Analytics.Get an overview of the most important metrics for your writing. Find motivation to establish a writing habit by following your writing streak and performance.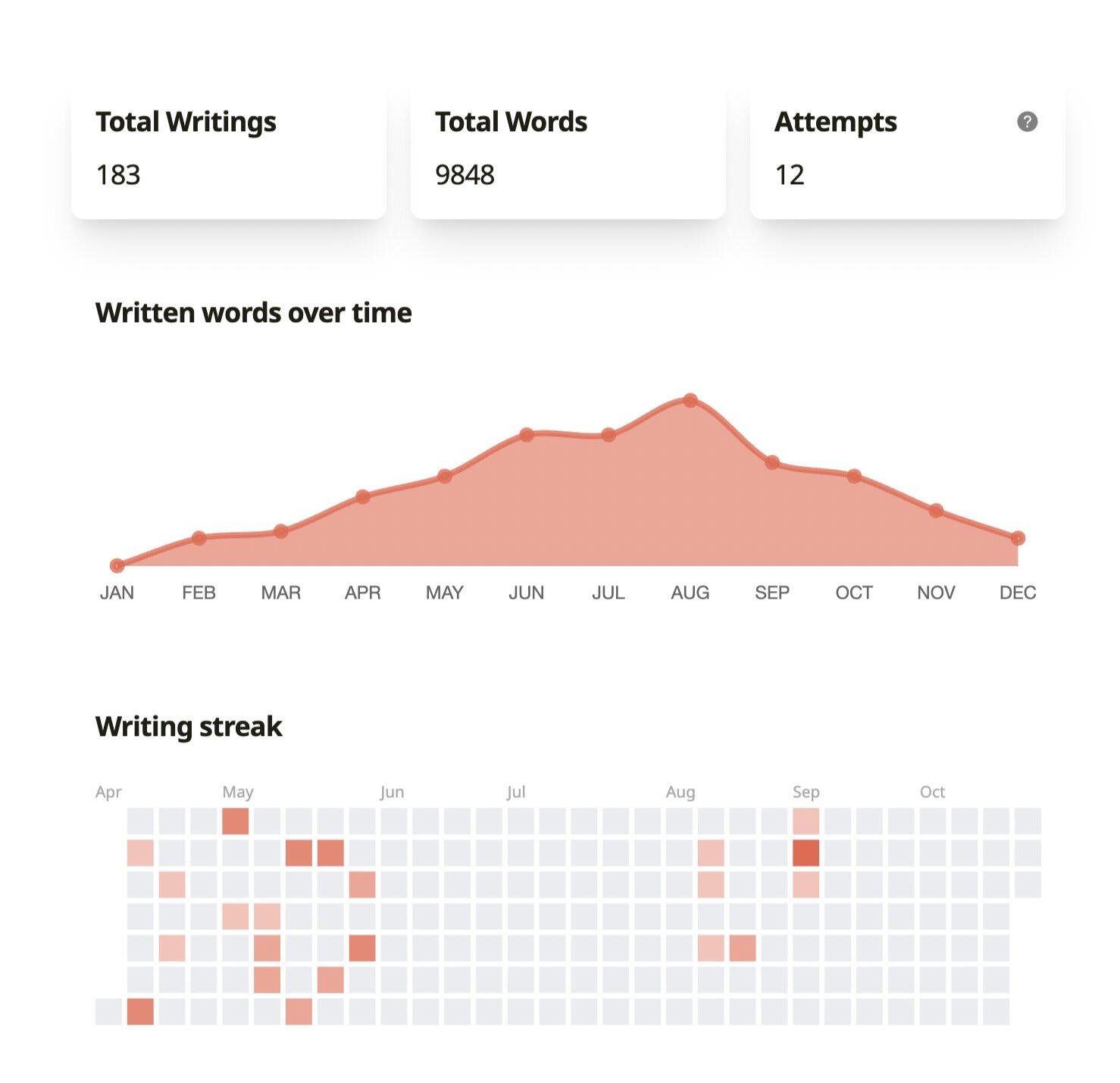 Creative Writing
Write for your own sake and your itch. Express yourself creatively and intimately. Structure and organize your creative content without having to publish it anywhere.
Drafting
Create the initial drafts of a larger content and reiterate it as many times as needed. You have full control over how your content sounds.If your writing is meant for publicity, you will definitely need a few drafts.
Marketing
Announce the latest news or feature on Twitter and LinkedIn in one go. Write the article, then use the intuitive publishing wizard to publish it on multiple social networks.Your audience will see it on all platforms the same way it was structured when you wrote it in Writings.
Mass Publishing
Following the old good principle of create once, publish everywhere, Writings allows you to write your content once and publish it on your social networks.Blog posts, marketing campaigns, or audience-building reach-out. Your focus remains on the content, the publishing is on Writings' side.
Journaling
You can use Writings as your journaling app! Use the built-in outlining templates to get a structure of an efficient daily journal log.All articles written in Writings are private by default. Your journaling articles can remain private and safe forever.
Cover and Application letters
Write a cover or application letter fast! Using an outlining template, get a structure then fill it in. Finally, you can either print the letter or send its public URL to the relevant institution or company.
Frequently Asked Questions
Is there AI support in Writings?
No, there isn't. AI generation features are not on the plate for Writings. Even though there are amazing content-generating tools out there, it's not a use case that Writings will ever support. One of Writings' goals is to stimulate authors to write themselves.
Does that mean AI will NEVER be used in 'Writings'?
No, it just means it won't be used to generate the content for you. AI though can be a great complimentary tool to already written content. There are few ideas that if implemented, will use some of the AI solutions out there.
Is 'Writings' free?
At the moment, Writings is completely free. Once product pricing is introduced, all existing and active users will be transferred to the highest-tier plan. That's my thanks to them for helping me out with the beta version.
What social platforms are supported for publishing?
At the moment you can use Twitter, Medium, and Linkedin to publish your content natively.
Can I create a blog with 'Writings'?
Not really. One of the coming-soon features will enable you to create a public profile with articles of choice that can list as public. But that should not be considered a blog whatsoever.
Does 'Writings' support collaborative writing?
No.
Send me an Email
Hi there! 👋 My name is Aleksandar Balalovski and I am the author of Writings!
You can find me on Twitter over here.Or use this form to send me something nice!