The Ultimate Writing Assistant for Beginner Freelance Copywriters
Focus On Your Writing and Stop Juggling Between Apps: One Platform Powers Your Entire Freelance Copywriting Journey—From Drafting to Distribution.
---

Simplified Workflow
Get More Done, Faster: Our intuitive, all-in-one platform simplifies your daily workflow so you can focus on writing, not wrestling with tech.

AI-Assisted Writing
Write Like a Pro: Our AI-assisted features help you generate drafts, offer suggestions, and fine-tune your content to a professional standard.
---
⭐️ ⭐️ ⭐️ ⭐️ ⭐️
What they said about Writings?
Loved by the users!
---
Writings Features
and why it is all you need to start writing
Structure your writing with the simple editor
Use the non-cluttered rich text editor to give your content proper structure. The simple editor provides powerful, non-distracting experience for you.Use Markdown syntax to speed up your process of writing or the common keyboard shortcuts.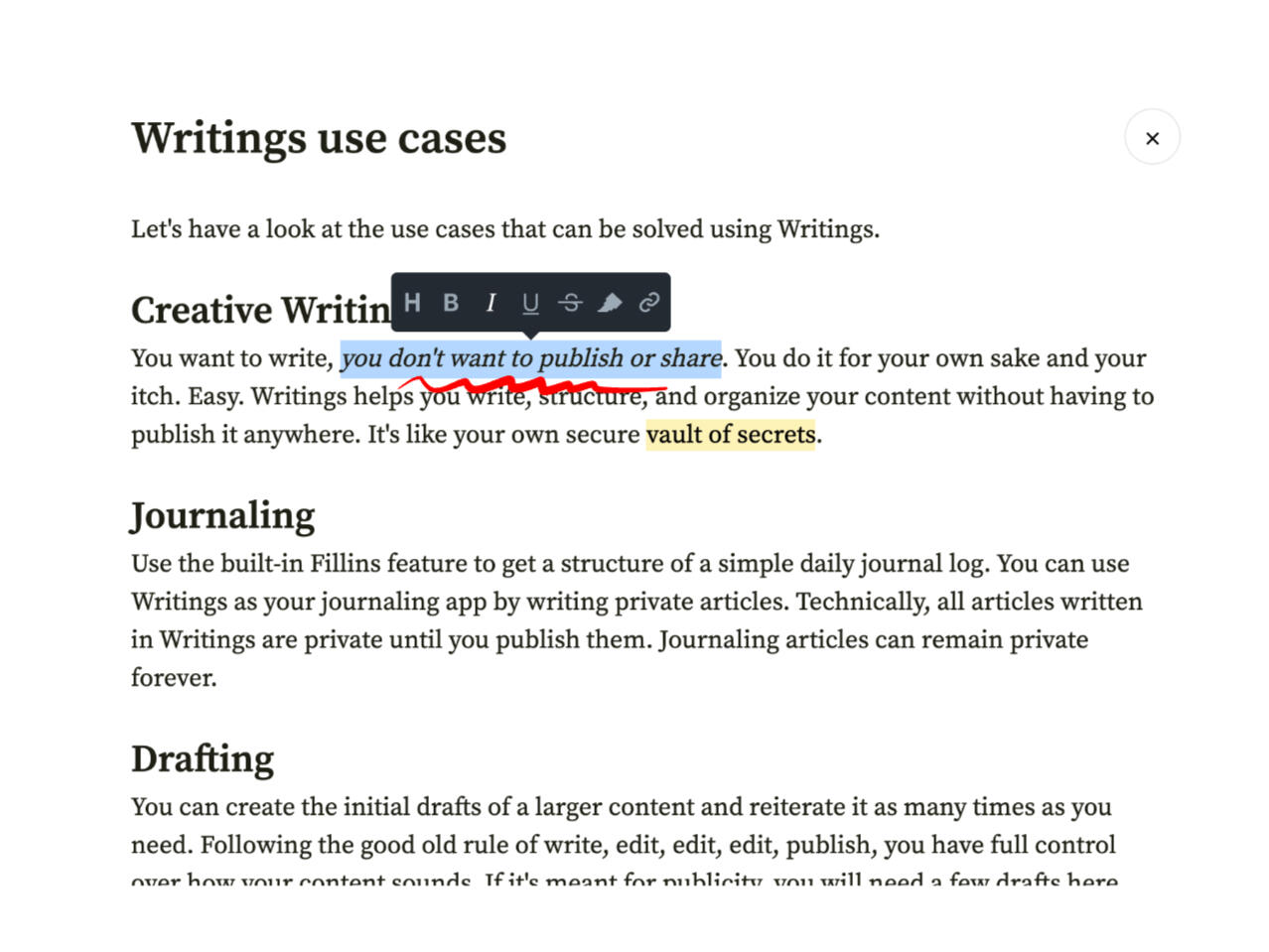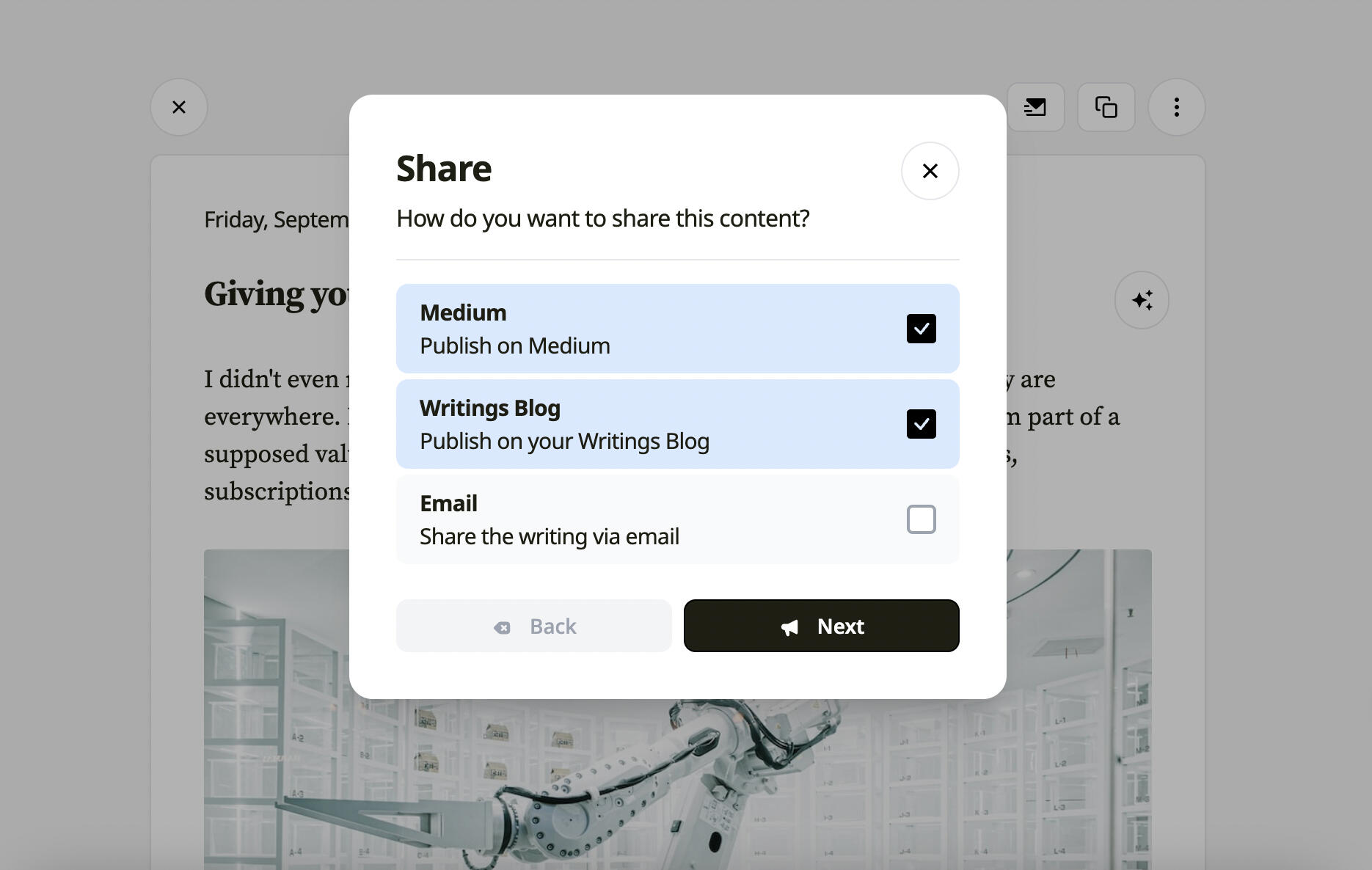 Cross-Post on Social Media
Save valuable time by eliminating the need to publish separately on multiple platforms. With Writings, you can easily publish to your social accounts in one go!Streamline your writing process and increase your reach with an all-in-one solution.
Create a Blog instantly
Easily create and maintain a simple blog with Writings!No technical expertise is required. Simply create a profile and start publishing SEO-optimized articles in seconds. Take control of your online presence and share your ideas with the world today!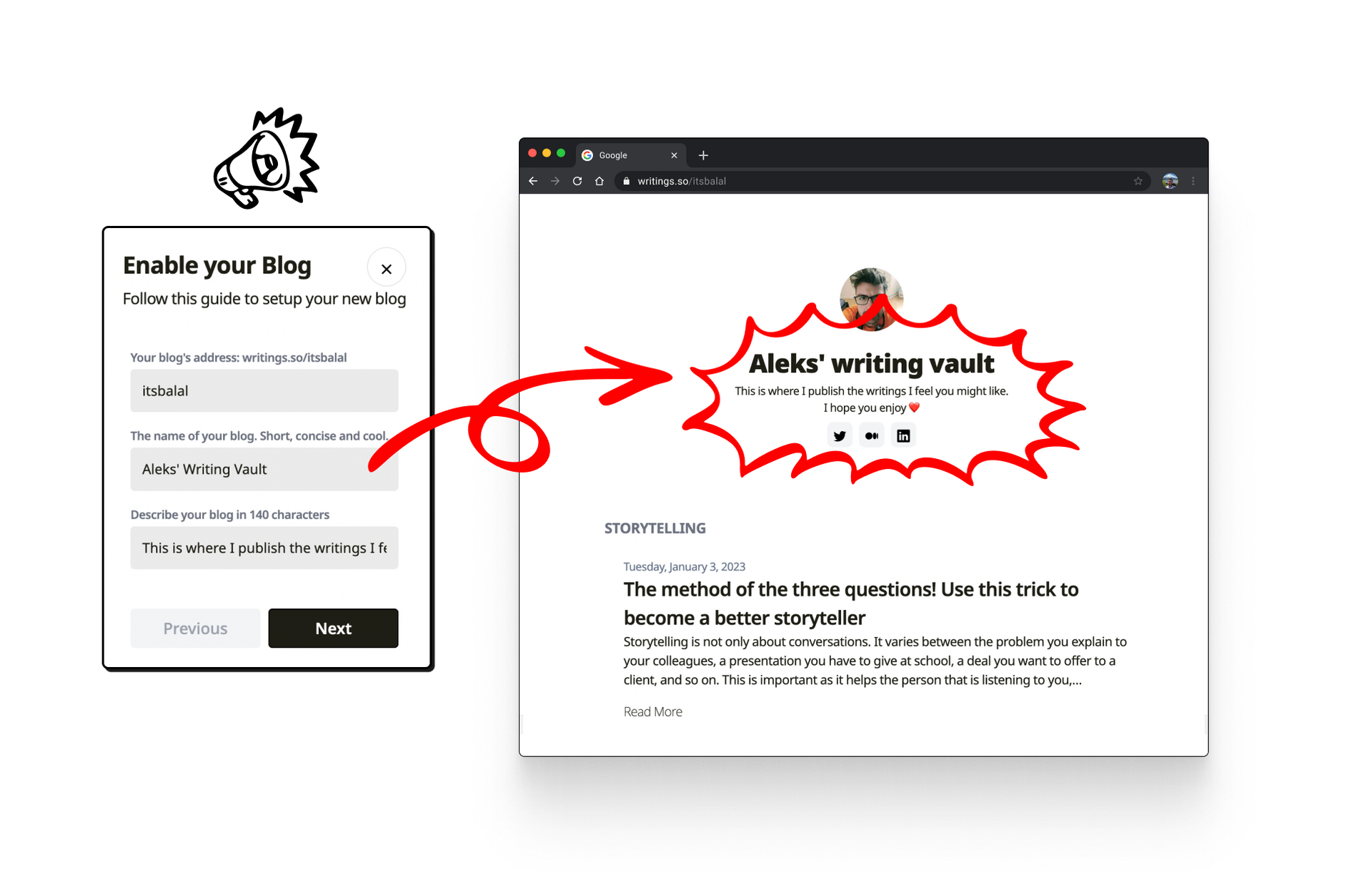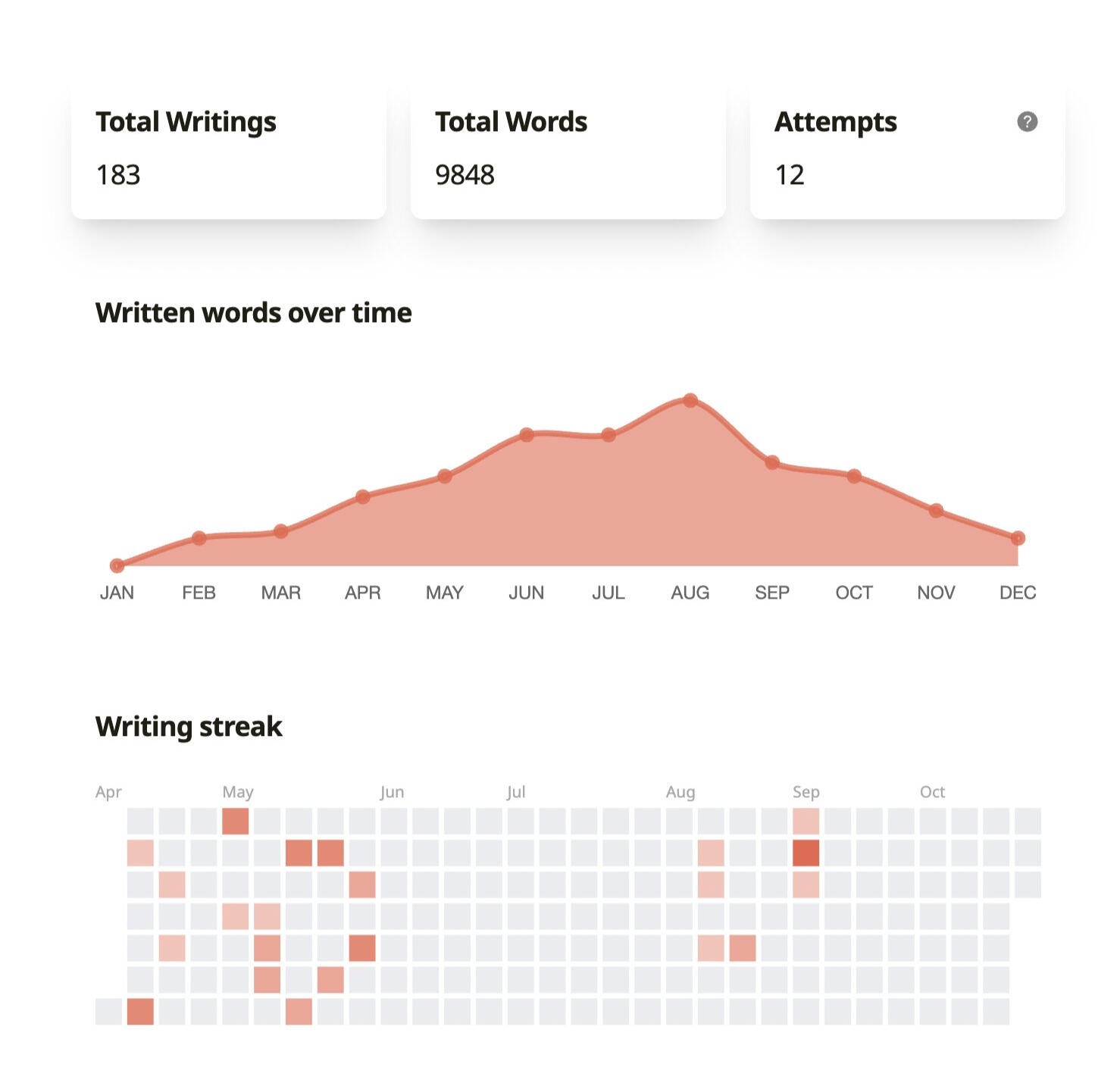 Understand how you're doing
You cannot improve it if you don't measure it. That's easy with Writings' Analytics.Get an overview of the most important metrics for your writing. Find motivation to establish a writing habit by following your writing streak and performance.
Integrated Writing Assistance
Stuck in a writer's block? Need a spark of inspiration or a gentle push? Fear not, Writings has got you covered!Our in-editor AI assistance is here to lend a helping hand. Unlock a wealth of integrated features to keep your creative flow and get those words flowing effortlessly.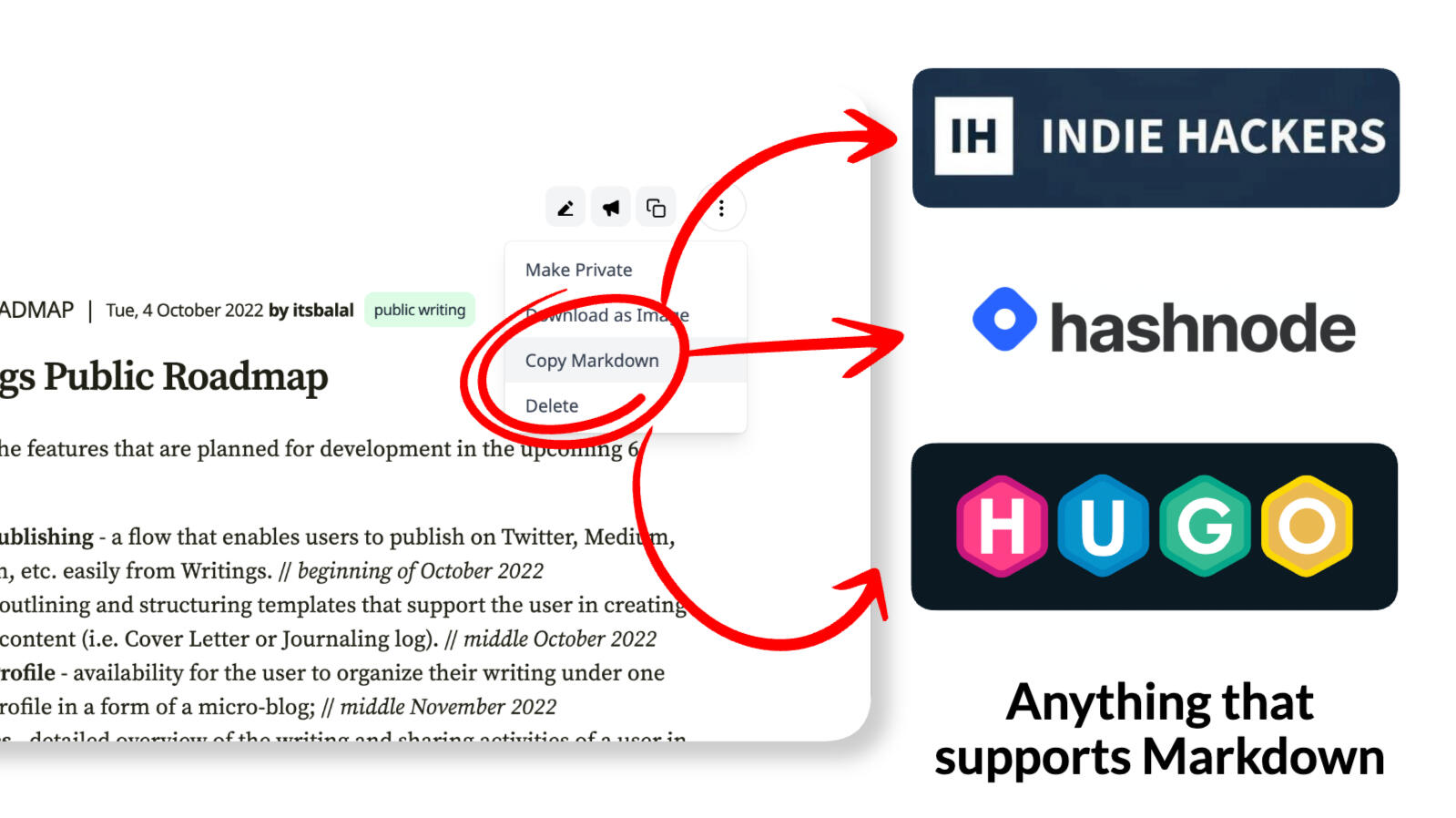 Export to other formats
You have a blog on Hashnode or you are hosting a personal one with Hugo? You want to publish on IndieHackers easily?Write your content, copy the markdown and share it on the platforms that support Markdown.
Pricing
Free
$0 / forever
Start easily with the Free plan of Writings. Write, Publish, Measure.
✓ Powerful Writing Editor
✓ Label and Structure Your Content
✓ Cross-post On Social Media in One Click
✓ Create a Blog
✓ Simple Analytics
x Get AI Writing Support
x AI Generated Content Drafts
---
Pro
$99 / Year
The Writings Pro plan offers a set of AI supported writing features
✓ All from the free plan
✓ Detailed Performance Analytics
✓ In-editor, AI guided writing assistance
✓ AI Generated Content Drafts
✓ Feedback with improvements suggestions
✓ Exclusive Content Outlining Templates
---
Creative Writing
Write for your own itch. Express yourself creatively and intimately.Structure and organize your creative content without having to publish it anywhere.
Drafting
Easily create drafts and improve your content a few times before publishing.Have a full control over how your content sounds to your audience.
Marketing
Announce news or features on multiple social networks at once, by using the easy publishing wizard.Your audience will see the same structure as when you wrote it.
Mass Publishing
With Writings, you can write once and publish everywhere.Blog posts, marketing campaigns, or audience outreach, focus on your content and delegate the publishing to Writings.
Journaling
Use Writings as your journaling app! Use built-in templates to structure journal entries.Articles are private by default, so your journal will remain safe.
Cover or Application letters
Write a cover letter quickly using an outlining template.Fill it in and print or send the URL to the relevant institution or company.
Frequently Asked Questions
I don't want to use any AI features, can I disable them?
AI features are entirely absent from the Free Plan of Writings. If you however want to support the project without using AI, you can disable them from Settings.
I don't know how to write, yet I need to create content. Can I use Writings?
Yes. Writings Pro is made exactly for you. We understand not everyone can and wants to write, and that's perfectly fine. Yet, if you still need to do some writing, you can upgrade to the Pro Plan and get your first drafts generated by the AI generation features.
What is a content management tool?
A content management tool is a software platform that allows content creators to write, edit, publish, and manage their content across multiple platforms, including social media, blogs, and websites.
What social platforms are supported for publishing?
At the moment you can use Medium, and Linkedin to publish your content natively, as well as create a separate social blog on Writings where you can actively publish and share your content.
Can I create a blog with Writings?
Yes. One of the features of Writings is to have a public profile in a form of a blog where you can list selected writings.
Does Writings support collaborative writing?
No.
Send me an Email
Hi there! 👋 My name is Aleksandar Balalovski and I am the author of Writings!
You can find me on Twitter over here.Or use this form to send me something nice!